MTIE, TDEV graphics
Keep frequency and phase under control is fundamental to ensure PTP synchronization in LTE, Power Grid and other industries:
Master/Slave/Transparent clocks testing in order to verify network interoperability and time performance.

Network commissioning to ensure that 3G and LTE services maintain its Quality.

Power and Telecom operator to verify the compliance with the industry standards (using the right masks) regarding timing.

Combine with Net.Storm to generate impairments (i.e. packet delay variation, errors, lost, bandwidth restrictions) for exhaustive mobile backhaul test.

Discover the network resilence and weaknesses.

PTP testing using GPS synchronization and atomic Rubidium clocks.
To facilitate the work of telecom engineers, ALBEDO testers have awesome features including simultaneous wander tests of PTP and SyncE and graphic results that include industry masks to define the PASS/FAIL criteria (all in real-time).
New panel with more interfaces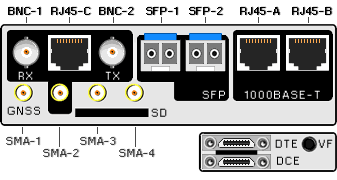 Ether.Genius and Ether10.Genius are fully compliant with G.8271 by adding a battery of SMA interfaces that permit to combine multiple testing signals (test), with input ref. clocks (in) and output ref. clocks (out):
4xSMA: intended for GPS(in), PPS (test), PPS(in), PPS(out)
2xBNC: intended for E1/T1/MHz test, MHz(in), PPS(in), MHz(out)
3xRJ45: intended for IP/GbE/SyncE/PTP (test), E1/T1 test, MHz test
2xSFP: intended for IP/GbE/SyncE/PTP (test), SyncE(out), C37.94 (test)
DTE/DCE: intended for PPS (in), PPS(out), E1/T1(in), MHz(in), Datacom (test), C37.94 (test)
PTP testing guide booklet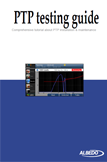 This is a comprehensive tutorial about PTP installation and maintenance is now available. Herein you will find everything you always wanted to know about PTP commissioning (but were afraid to ask).Written by doctor F. Hens, from ALBEDO.